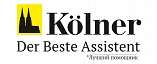 The products of the KOLNER trademark are positioned as an electric tool for those who ready to solve the problem of any complexity independently.
The development of modern technologies makes possible to produce an affordable but reliable tools.
The model range of KOLNER brand presents all possible tools and equipment - electric and cordless drills, planers and saws, grinding and milling machines, specialized tools and welding equipment.
The line KOLNER presents a worthy choice of hand tools. In the range - pliers, thin-nose pliers, side cutters, wrenches, scissors for metal, hacksaws, hammers, scrapers, roulettes.
A special group is occupied by expendable materials - high-quality knives for planers, saw blades to jigsaws and disks for circular saws.
Due to its affordable price, the tool and equipment of TM KOLNER became a real hit in sales in chain stores and hypermarkets across Russia.
Address: Russia, Moscow , Krutitsky val str., 14
Fax: +7 (499) 705-50-00