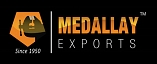 Medallay Exports is No. 1 manufacturer & exporter for Bench Vices in India
Our Profile:

• In-house manufacturing and worldwide Exporting of quality Bench vices ( covering all the segments; Professional, Semi-professional, promotions, DIY etc)
• One of the widest ranging product catalogue in the world.
• Competitive pricing for high quality.
• In house Casting Plant.
• Highest certifications such as GS CERTIFIED (more than 90 models are certified), SA-8000, ISO 9001:2015, GOVT OF INDIA.
• Flexible to provide customised vices in any Colour, SIZE & *Branding* (multilingual and Coloured packaging as per your specifications).
⭆ "Happy and flexible to develop new vices as per your specifications." ⭅

Our global presence

We are currently selling to top Retailers, Wholesalers, Buying groups around the globe. Safe to say around 60 countries which include United Kingdom, Europe, USA, South Africa and more.

WHAT MAKES US THE BEST OPTION FOR YOU?

• Infrastructure - High tech production on VMC AND CNC machines for good quality standards.
• In-house Quality testing lab
• On time shipments as promised - (we celebrate sending shipments to you).
Medallay Exports
www.youtube.com/watch?v=3ddrwxtPu1c
Address: Village Dhogri, Pathankot Road, Jalandhar, Punjab
Phone: +919888700490
E-mail: marketing@medallayexports.com